Hello, everyone!
As the subject for this entry says, I'm a day late. My bad. I really was excited to write a blog entry up yesterday, but there was a lot on my plate and something slipped. I'll be more careful in the future… but I have some awesome news!
I'm all caught up on my patreon writing, sans commissions!
Later today I'll be doing last minute checks, formatting, etc, but then my patrons are going to get a lot of new fiction. If you want to get in on that, you may want to sign up!
Patreon exclusives, flash fiction… it's all good stuff.
April will have me catching up on commission work, but I have other things in store, too. For one, we'll be getting Debased 3, the ongoing story of Bree's cruel use of her hypnotic breasts. That will be followed by Presented, the third part of the Application of Control series, and well… it's my anniversary month of being on Amazon! I have something special planned for that, a couple of very special things if all goes right.
Excited to get back to work on The Memory Remains being polished up. Hoping to get that out sooner than Silver Eclipse came out after The Adventures of Silver Girl.
This week, I released A Completely Consensual Makeover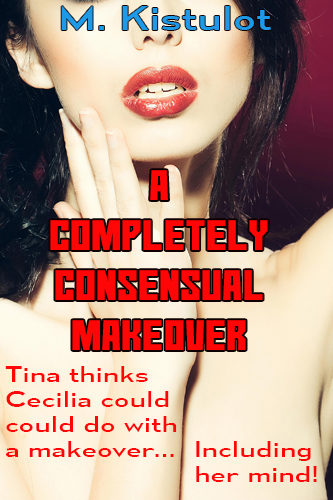 It's a story about a goth girl being forced to see the brighter things in life, with some hot bimbofication. It's not something I write the most, but if people like it… say, buy it, leave reviews… well, maybe you'll get more! Find it on amazon here!
Other things worth mentioning: I recorded a new podcast with Callidus the other day. Being his cohost on The Black Room has been really delightful. It isn't out yet, but these things take time. In the meantime, I recommend watching the backlog of podcasts here! We talk about CORE, and lots of other good stuff.
So, what other business is there…
OH! Doctor D, one of the best newer writers on MCStories? Now has a lewd twitter! Follow her at @DocDwrites!
I think that's really all for now! As a reminder, Silver Eclipse was released earlier this month, and more good stuff is coming! I'll be much more careful about next month.
For now, I hope you all have a lovely day! Take care of yourselves and each other.