Hello everyone!
I hope that you've all had an excellent week! It's been an excellent week for me, with a lot accomplished, and a lot happening for me. This week had a new release, and that's always a good thing!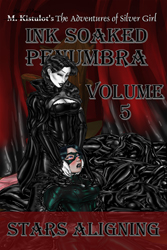 Available now on Smashwords and on Amazon!
If you want to preorder Part 6, it's up for preorder on Amazon, and it's available to add to your library on Smashwords!
So much ink has dripped out onto the page, and that's been incredibly exciting for me. All of the feedback has been wonderful, and I can't wait to see more of it!
For the rest of this month I'm going to be up in Seattle, and unfortunately I didn't bring a backup of my FTP data with me, so… I can't update my website. Phooey. But that just means I'll need to make sure to fix that the moment I get back home early August. New story releases, however, will continue unabated.
That includes Patreon updates, too! They will continue unabated, and if you'd love to get more of my writing, that's a good place to look! The EMCSA is going to update this week, but I updated last week on ROM, too, a newer story site hosting erotic mind control works.
Patreon helps me release free writing, while still making that money thing you need to make to get things you need, so, please consider supporting that if it sounds like something you would like to do!
That's all for this week, but I hope you have a wonderful week, and I'll see you back here next time!
Until then?
Take care of yourselves, and each other.