Hello, everyone!
I hope you're all faring well! I'm… somewhat in recovery at the moment, all truth told! It turns out writing 200,000 words or more in a month? Can be very taxing if you achieve it be writing day and night, day and night, taking at most one or two days off at a time.
I'm recovering well, but it does mean that I've had to set this week aside and try to focus on recuperation. A shame, but this is a week I imagine many of you have been waiting for a while!
Annoyingly Amazon is taking its sweet time publishing the paperback, but if you want the ebook for The Argent Road compilation including Wherever I May Roam, Dust High, Misted Facets, Nocturnal Interlude, and Informant?
It's available now!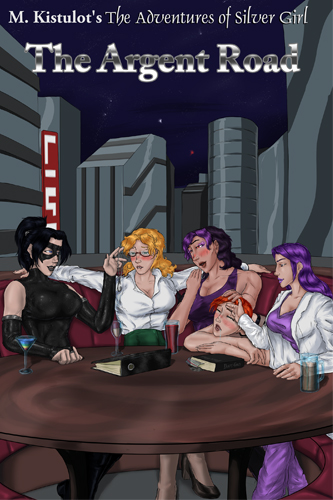 You can find it on Amazon now, and get access to all five tales in one compiled piece of prose! And a version of the cover with no one in silhouette!
Hopefully the paperback will be up in a day or so. It says 72 hours, but it's never been that bad. The time I trust it for a paperback, sigh!
Soon, The Argentum Project will begin releasing! I can't begin to tell you how excited I am to rerelease that saga. It's such a big project in terms of its scope, the way it builds from these tales I once called "lead-ins"…
More plot heavy, The Argentum Project doesn't sacrifice anything on the character front to bring a compelling plot to life. New characters, returning faces… this story has a lot going for it, and I think you'll all find something to like as the story continues, and Sarah faces new challenges.
For now, that's me! Next week will likely be a week filled with story recommendations and other things like that, and then the week to follow? We take a turn off of the Argent Road, and proceed onward, to The Argentum Project.
Until then, take care of yourselves, and each other!