Hello everyone!
The biggest news from me for the moment is that I'm now fully vaccinated. It doesn't kick in completely for another week, but as someone who has been very concerned about all of the nonlethal effects of things, this is a big deal for me.
After that?
My latest paperback release!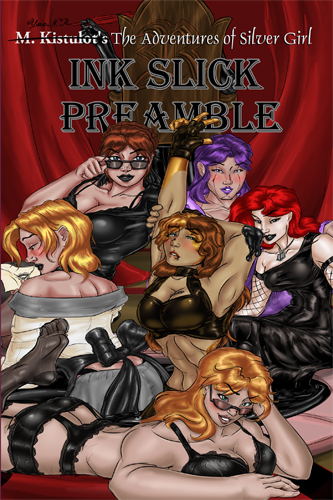 You can pick up the compiled e-book on Smashwords, and that gives you one easy way to read through Poetic License, Ballpoint to the Brain, Blotted Lace, Ink Blots, Sealed with a Kiss, Ink Bot, and Prequill all in one convenient file! If you want a paperback, or prefer the kindle store, you can pick up a copy on Amazon!
There's a preorder available for the next story's first volume, Ink Soaked Penumbra, and you can find that on Amazon or Smashwords!
So, that's pretty exciting! The original series of Silver Girl is six books long now, though that's hardly the end of the series… book six represents an important milestone: breaking past half way! There's a lot more sexiness to come, so I hope you'll join me!
So today is the last day of the Debased April sale, but for May I went a little differently…
Mothers' Day
Three stories heavily featuring mothers (but not My Girlfriend's Mom is a Hypnotist) are on sale for 25% off! Through June 3rd, the first Thursday of next month, you can pick up Strapped, Taming the MILF Next Door,  and Traditions, all for 25% less than normal! This sale is only on Smashwords, and it'll be over when next month gets a blogpost, so don't miss out!
Strapped features a story of a stepmother who has something important to share with her stepdaughter, Taming the MILF Next Door has a precious young woman getting much closer to a very attractive woman, and Traditions has a young woman becoming a part of her mother's family's long held traditions.
All of these felt pretty appropriate to me for May, and I hope you enjoy them if you give this sale a look!
In a couple of weeks Ink Soaked Penumbra will release, and that story actually won an award! Way back when, the MC Community as I knew it on the fiction side of things was largely on one forum: the MC Forum. It's changed a lot since then, but at the time it was under the leadership of JR Parz of Master PC fame. Some people wanted to start off a yearly awards program, to celebrate the most exciting releases of the year…
Some people reacted very poorly.
Between that and some of the very brazen heteronormativity of the MCF, that's why I created the Argent Garden forum that would become the MC Garden later on.
Regardless, Ink Soaked Penumbra was voted the top FF story of 2007, which made me extremely excited. I don't know if it'll be the best story of 2021 on its rerelease, but I've done everything I can to make that the case!
That feels like a fair bit to talk about for the week, so that's all for me! Take care of yourself and each other, and I hope you continue to enjoy!
Oh, before I go, while it seems the sale on Silver Eclipse has ended, my editrix has a post on the Silver Girl subreddit showing that two of the first three paperbacks are currently on sale! This isn't something I can control, but if you want to grab a copy? Now is a good time!
That's all for real! See you next week!