Hello, everyone!
The final story of the original Silver Girl decalogy will be releasing soon!
Red Moon rising is a story that builds on all of the past nine stories. At the time, I was convinced I would write RMR and then be done writing mind control, just… bam, instantly.
I'd move on to "respectable" writing.
Sure glad that bug crawled out of my ass and I realized my passion is writing women losing their minds in sexy ways!
So Red Moon Rising became a very important story to me. I needed to put every last little touch I wanted into the series, into a story of its like… and I think that it lives up to that goal.
So if you want to preorder it… you have a few days before Volume 1 drops…!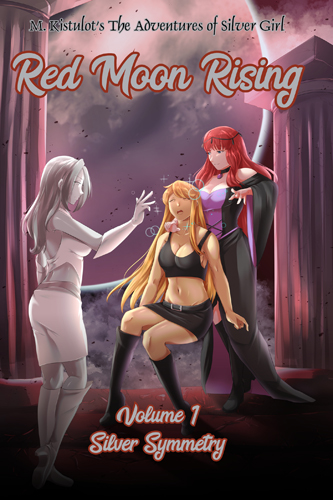 It's up for pre-order on Amazon, and adding it to your library on Smashwords makes it that much easier to grab up!
I also want to stop and highlight the brilliant work done on the cover! The art was done by the immensely talented (and incredibly lovely to work with) Rinku Bny. She has done a lot of art for Silver Girl that you haven't seen yet, and that should make you excited!
I definitely am.
Similarly, my editrix aleksandra (who did not edit this book–that was kia!) did a wonderful job modifying the original work to make a better cover. Don't get me wrong, this wasn't immense photoshopping–just layout tweaking. Without it you wouldn't be getting a cover that looked half as good!
Both deserve nothing but appreciation!
Also, gosh, Rinku really did a great job with the back of Sarah's updated look, huh? I never thought of it like that, but now that I've seen it? I love it! This is one of the big reasons why I love working with visual artists: they're so much more visual than I am!
So, am I hyping this release too much? Maybe! I hope you all enjoy it when it inevitably drops!
What else is coming from me in the near future?
$5 patrons get Ongoing Education today at noon–a story about a teacher and her student. $10 patrons get to read the first half of Give a Penny, Take a Penny, a story about a super heroine at the end of her rope… and $15 patrons get to read the conclusion!
If you want to know more?
After I write this I'll be right off to Patreon to write my weekly patron-exclusive blog post, and anyone gets that for the minimum monthly pledge, and the month JUST ticked over, so check it out!
Also, look forward to some art going up on my website to commemorate the path from tAoSG to here… and here's a little preview!
If you want to see it sooner?

Check out my discord server, here!
For now? Take care of yourselves, and each other!