Hello, everyone!
2020 has been one hell of a long year, and yet somehow I still can't believe it's almost over. How does that even work? I don't know, but 2020 sure is a land of contrasts, huh?
To begin with, this week saw the release of The Argentum Project Volume 8: Identity Crisis. The series is really heating up, so you should grab your copy today!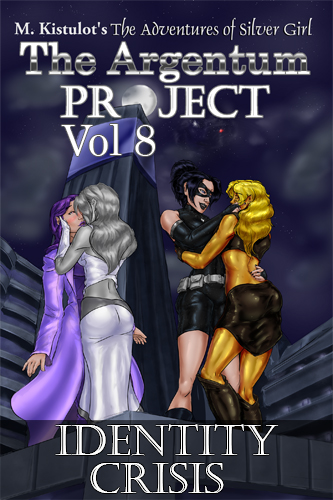 Available on Amazon and Smashwords!
The Argentum Project introduces one of my favorite characters in the entire larger Midas City setting: Aureus. Volume 8 begins to show just why I adore her so much. You should read to find out!
And if you want more reading? I have another recommendation:
Gift of the Sale: Gift of the Sorceress and Wanna Bet are both 50% off for the month of December!
Head to Smashwords, drop by the Tomes of Modern Magic series page, use the coupon code VY48S at checkout, and save 50% on either of them or both! It lasts until January 1st! Wanna Bet is a fun, sexy story with a fun gambling theme based around a chance encounter. Gift of the Sorceress is a sexy Yule story! You should check these out while they're on sale!
Want more to read? I have a few more recommendations. For one… Did you know you can get Modren's Whiteout in paperback form now? There's an extra chapter in there, AND a thanks to me! So you should check it out! I have my copy!
Pick it up in paperback here on blurb, or here for ebook on itch.io!
Not only that, but have I mentioned The Kat Came Back recently? It's a hell of a story, and it's been keeping me constantly on the edge of my seat. Read it!
Doctor D. also updated It Rings for Thee recently, and if you haven't been reading that, why not? It's got brilliant world building, prose that frankly puts mine to shame… you should be jumping on this right now!
Don't forget that I'm running an AMA on my Discord server, The Madam Kistulot's Domain, on the 11th! Soon the channel there will have a link to a list of events for a recap of tAoSG, as it will be specifically about that book as more people have had a chance to read it than the rest, and I want to see if my fans will get a kick out of it! You'll be able to ask the Chronos crew questions if you have them, too!
I feel like I should have a lot more to say here, but that already is a fair bit, huh? I hope you all have a great end to what has likely been a very stressful year. Take care of yourselves and each other.
Until next week!