Hello again, everyone!
The penultimate volume of To Serve and Obey is now available!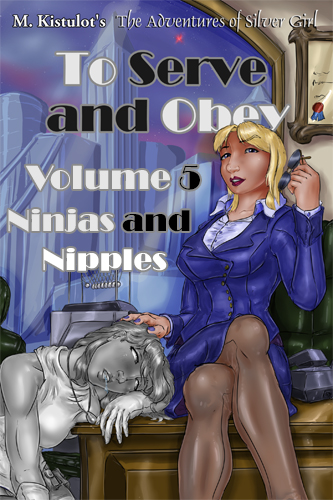 This section has a scene that my editrix considers the best scene in the entirety of To Serve and Obey, and a contender for the best in the series… so you won't want to miss out on this!
Check it out on Smashwords here,  and here on Amazon!
If you want to preorder the final volume, Consensuality and Consequences? Preorder on Amazon here or add to your library on Smashwords here!
So with that out of the way, goodness, we're already almost 1/12th of the way through the year! Can you believe it? February! That's the month with my birthday in it, too, so  I'm understandably pretty excited.
Which if you haven't seen it yet, I decided to have some fun and make a silly little wish list on Amazon. If you're crunched for cash right now, or don't want to grab anything? Do not feel bad or worry about it AT ALL! This was just something I wanted to do for fun, and I don't want anyone to worry about it.
Read my work as it releases on ROM and the EMCSA. Fan mail is even better, for anything I write!
I've been busy at work getting the last little things I need ready for the novel following To Serve and Obey, and I think you're all really going to enjoy it! It was a favorite of a lot of people when I released the original version back in 2007, and the rewrite is so much better.
I'm really excited for all of you to see it!
Last weekend Facetized released over on ROM and the EMCSA thanks to my Patreon backers. As for this week? My $5 patrons get to read the first part of the sequel to Undercover: The Interrogation of Shauna Larson (ROM/EMCSA). Amusingly, I actually wrote this sequel's outline first, but realized it would work better as the first release.
$10 patrons read part 1 a week ago, and 15$ patrons read it two! For $15 you'll get to read the whole thing this Friday! Pretty great, huh?
To find out more, check out my Patreon here and read the weekly exclusive blog post about what I'm up to professionally!
If you'd like to chat with myself and other fans of my work, check out Madam Kistulot's Domain! If you'd like to chat with other lovers of Erotic Mind Control? Check out another server that I administrate–Mind Control Literature, or MCL!
Until next time?
Take care of yourselves, and each other!