Hello again, everyone!
Did you know that Volume 8 of Red Moon Rising: The Sound of Obedience is now available on Smashwords and Amazon, and even on Patreon?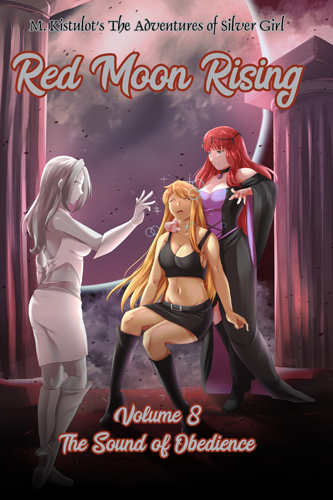 Check it out on Smashwords, or Amazon, and the Patreon post is here!
We're so near the end of Red Moon Rising… but not quite there! If you want to preorder Volume 9? You can do so on Amazon, add it to your Smashwords library here, or subscribe to my Patreon here!
So with that out of the way, what new is coming from me?
Last week we finished The Path of Least Resistance, but that's not the last thing you can expect from me!
Tomorrow at noon, my $5 patrons get to read Becoming Dorothy Part 1, a story about a fae woman grabbing up a woman to make herself a new perfect dolly. My $10 patrons get to read part two… and my $15/30 patrons? They get to read the end!
Join my Patreon today and don't miss out!
Next week, my $15/30 patrons will get to read the first part of my first novel-length story written just for ROM/the EMCSA since 2018–and one that isn't likely to end up anywhere else. You'll be pretty eager to see it if you've been enjoying my work at all!
So, what else is there to say?
If you want to know more?
Check out my patreon for another blog post I'll be writing up right after this one!
Until next time?
Take care of yourselves… and each other!