Hello again, everyone!
Volume 10, Crimson Confrontation, is finally released!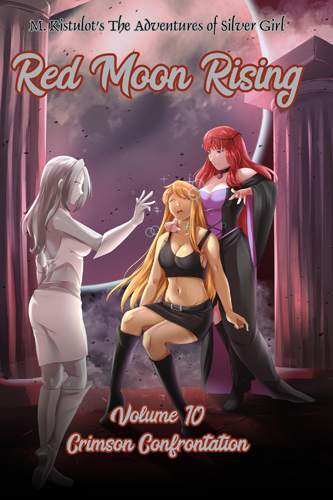 There are three places to find it!
In another two weeks, all ten volumes of Red Moon Rising will be compiled into an e-book. You can pre-order it on Amazon, add it to your library on Smashwords, or follow my Patreon.
It will also be available in paperback on Amazon! Unfortunately that can't be pre-ordered, but it will be available in another two weeks on July 26th!
And goodness, once that book is released… all ten of the original Silver Girl books will be collectable in physical form! I look forward to showing off how this looks, and finding some way to make it all fit on a shelf.
What else is coming from me this week?
Well, for awhile, my latest story Tender Loving Control will be release for my $5 patrons, $10 patrons, and $15 patrons. The key is that the higher tiers get to read everything sooner! If you want to be as far ahead as you can be? You'll want to sign up for the $15 tier and enjoy the ride before anyone else! 🙂
But honestly, any amount on my Patreon helps support self indulgent projects like TLC. It grew from a desire to write something self indulgent, but I think it grew into something a lot of people can really enjoy! 🙂
That's me this week!
Until next time?
Take care of yourselves… and each other!