Hello again, everyone!
Though I have a bit to say this week, I would be remiss if I didn't get right to a big, important point as soon as I can.
This week saw the release of the third part of Emily, Madison, and Jennifer's sensual tale with the release of My Girlfriend's Mom is a Hypnotist (And Now She's Going to Spend the Holidays Trancing Me Out of My Mind?!)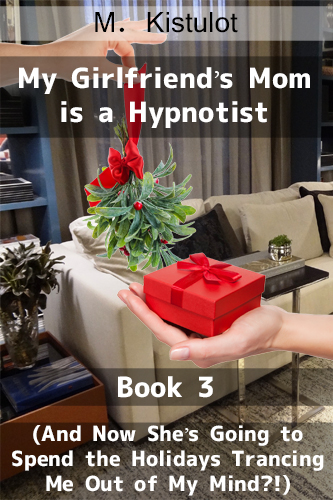 You can get a copy on Smashwords, or Amazon!
if you don't want to miss my last release of the year?
Pre-order on Amazon, or add it to your library on Smashwords!
So, with that important announcement out of the way… I'd like to share a bit about the way this release makes me feel.
Back in April of 2018, I had no idea how this whole internet publishing thing was going to go. I'd been writing lesbian erotica since 2005, but it was a very different situation to go to epublishing compared to what I'd been solely doing from 2005 to early 2018. I did some research, and I tried to figure things out beforehand… and I'm still learning things now!
Publishing on a website where all of the stories are free carries with it different risks, rewards, and challenges than posting on Smashwords and Amazon. Covers matter! The audience is different! Money!
All of that came together in ways I hadn't possibly imagined.
I learned what I like to write, what I want to do, and how to make a long term schedule. I feel like I could rant about that for hours, but you're probably here to hear about more smut 🙂
Tender Loving Control continues over on my Patreon, as do weekly blogposts that go into greater depth on what I'm currently working on! Support at any level for weekly blog posts that grant you a deeper insight.
This time of year can be tough for a lot of us, so please take some extra time to make sure that you're taking care of yourselves, and each other.
If you'd like to join me and other fans to chat about my work, please join me over on my discord server! Any author lives or dies on feedback, and I could never get enough of that!
Until next time! 🙂