Hello again, everyone!
Sorry for the lateness on this post, but I think it'll make sense after you read the contents!
This week has two rounds of big news. Let's start out with the more exciting news–the final volume of To Serve and Obey, Consensuality and Consequences, is now available!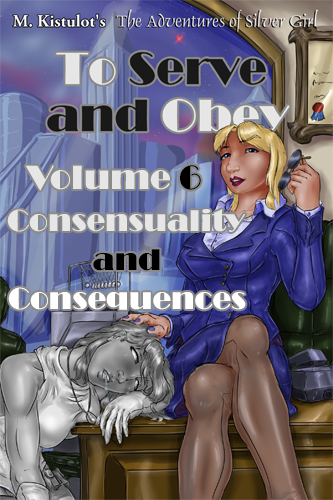 Check it out today, and nab a copy on either Smashwords, or Amazon!
Soon the compilation will be released, giving you a one-purchase way to read the whole of the penultimate story in the original Silver girl series… but who wants to wait that long, huh?
You can pre-order on Amazon here (unfortunately you cannot pre-order paperbacks), and you can add it to your library on Smashwords here!
So, that's the good news.
The bad news is that back in December I was diagnosed with a cyst in my wrist. The condition started in September, but due to moving from Oregon to Massachusetts, getting it examined wasn't as easy as I'd have liked.
Unfortunately, while it was supposed to just get better and I'd be able to move on with my life? It appears that has not been the case. It also turned out, after a nasty MRI, that it isn't a cyst at all, it's an inoperable tendon problem. So while I received an injection that hopes to fix it… odds are good that it will not get any better, and will in face only get worse from here.
So far it hasn't impacted my ability to write, but to be honest it's only a matter of time. It's already made life a lot harder, and the 48 hours after the injection hurt a lot. Coping with this emotionally, given how difficult it has been to use my hand and I'm being told it's probably not going to recover, well…
That's life right now.
Today on Patreon my $5 patrons are getting to read the finale of Undercover! My $10 patrons get to read Fantasy to Reality, a story about an authoress returning home from college for a very lovely surprise, and my $15 patrons get to read the conclusion of Fantasy to Reality!
Even more than usual, if you would like to support my patreon, that would mean a lot to me.
So, enjoy the conclusion of To Serve and Obey… and the stories from my Patreon!
If you'd like to chat with myself and other fans of erotic Mind Control, and you're over 18, join us here on discord!
If you would like to chat with fans of my work specifically, join the Madam Kistulot's Domain Discord!
Until next time, take care of you and yours!