Hello, everyone!
I hope that you're all doing quite well. It's Thursday, and that means more blogging! To start, my latest release! Pink Candy, the final tale of To Patrol and Control, is now available!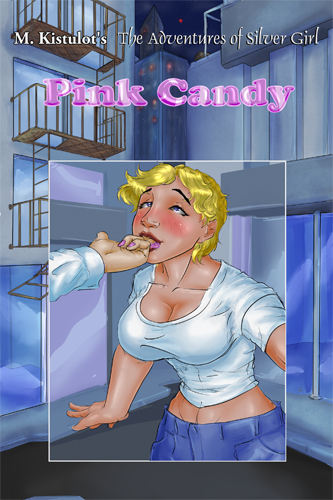 You can pick up a copy today on either Smashwords, or Amazon!
And in another couple weeks, To Patrol and Control, the compilation, will be released! If you'd like to preorder the ebook (as always, a paperback will be coming on the same day, but Amazon doesn't let you preorder those for… some… reason… but it will use the same link) then you can do so here on Amazon! If you want to add the compiled ebook to your Smashwords library, you may do so here!
TPAC is the 8th in the original 10 stories that comprise The Adventures of Silver Girl. In retrospect, having the first remain "The Adventures of Silver Girl" isn't doing me the most favors. At least Star Wars Episode IV gets to be called "A New Hope", right?
But a couple weeks after TPAC's compilation drops, a new story will begin to release… but you'll need to wait and see more as we get closer!
For the moment, I'd like to highlight some great stories I've read recently.
Modren's Whiteout was a great story, and another tale in the same universe by the same writer? That's practically guaranteed to be gold. Dating the Enemy, commissioned by my editrix of all people, is a solid story. If the idea of a heroine going on a date with one of her villains strikes you as a fun setup for a cute MC story, then you owe it to yourself to read this one!
Kallie is hardly a stranger to… anyone who reads my work at this point, I daresay. I'm pretty sure her reach has extended beyond mine… but her writing deserves notice! Two of her recent tales, Succubimb and Shackles are absolutely amazing so far. Succubimb is a fun tale about a nerd wanting to summon her perfect bimbo. Shackles is about a woman getting a bit in over her head with a very overzealous heroine. That's how I'd sum it up so far, though.
Finally, CactusJuggler is one of the best writers on the archive for dark, twisted, naughty smut that's just crude and crass and wrong. Catch More Flies continues this trend, and I heavily recommend it. This hits so many fun kinds of twisted, naughty heat, and if I didn't recommend it I'd be doing you all a disservice.
So with that said, what else am I up to?
Well to find out what I'm writing actively you'll want to head over to Patreon and et in on my weekly blogs there, but also a hint: UMKP.
This weekend, my $5 patrons will be getting the second section of Figura's tale, To Change the World, Change Yourself. My $10 patrons, on the other hand, will be receiving the chunk just past half way, chapters 7 and 8. If you're enjoying the story and want more of it, faster? It's just a quick Patreon subscription away!
I'm never upset if anyone dips in, then drops back out.
If you'd like to join myself and chat with other fans of my work, stop by Madam Kistulot's Domain the Discord server! I'm pretty active there. If that's not your style, then I'm also on Twitter here.
Until next week, please take care of yourselves… and each other!