Hello again, everyone!
It's been October, and I haven't been leaning into the spooky here one bit, have I?! Ahem… let me see if I can fix this…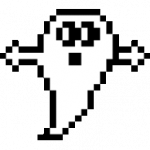 OOooOoooOOOooOOooOoooo you will all have a very hotly spooky October! OooOOOooooOOOoooOOOoooOooo!
Hrm… No, no I don't think that quite worked right…
I tried?
Anyway!
Thursday the 13th always makes me feel cheated! Does it do that for you? Friday the 14th is so bland, and Thursday the 13th isn't really special, so I feel like maybe we should just make the 13th of every month special. People with triskadecaphobia might not have a very good time, but it's not like the number doesn't exist without this.
But that's getting way off track!
For fun, I'll recommend a few good spOOooOoOoOky sexy stories for all of you to enjoy!
Winter Flesh: An underrated Tabico story, this one felt appropriate, for, well… I won't say! But it's appropriate in its own way, and I think you'll all enjoy~
Grayscale: A Whiteout Anthology: With sections like Cat People and The Howling, how could I not recommend this Modren story for a spookily good time?
What Kind of Monster?:  Most of the stories I love most from EyeofSerpent are all in a series and I recommend them, but that's a daunting recommendation. Instead, enjoy this brief glance at a sexy monster!
Blood on Parchment: Does it get much more Halloween than Vampires? I don't think so. This great story by Doctor D. is an erotic delight, and if you haven't read it already, or recently, you ought to!
Giveway: Have I ever mentioned I like vampires? I like vampires. This vampilicious story by trilby else is a great look at mind control from multiple directions at once, and is a start of something more~
The Vampire Hunter's Folly: Hmm. The last story had vampires, and vampire hunters too… Am I a bit one note with this list? This story by Kallie is a delicious one, with some spooky bimbofication, too!
Freeranged: Okay, so I'm weak. Remember Giveaway? Read that first, because this is a sequel and I want all of you to read both of them. This is another trilby tale of spooky sexiness, and frankly, it's underloved.
Read these if you like, and give their writers an email of praise if you enjoy! Feel free to discuss these stories, and others, over on Mind Control Literature, a discord server for fans of erotic mind control to come together, chat with each other and authors of work they enjoy!
From me?
Might I recommend the Halloween Screams: Tales of Sapphic Treats series?
But that's all from me!
The Tender Loving Control series continues on the EMCSA/ROM, but only with support from Readers Like You! (Check out my Patreon!)
If you'd like to chat with me, and fans of my work?
Join the Madam Kistulot's Domain discord!
But until next time?
Take care of yourselves… and each other!