Hello, everyone!
As stated by the title of today's blog… the Ink Soaked Penumbra is now finally complete!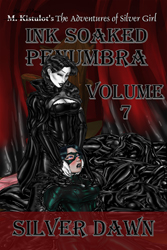 Pick up a copy of Volume 7 today on Smashwords:
or on Amazon:
There's a lot more Silver Girl sexiness waiting us in the future, too! My editrix has been working hard to get me more, and I've been formatting it, preparing it, etc! Artists are hard at work on covers, and I'm very confident that you'll all love what's coming your way! 🙂
Speaking of stories people are really enjoying? Last weekend's "Award Winning Fuckdoll" has been doing real numbers! A lot of people have really seemed to love it, and if you'd like to read the next section now you can do so on my Patreon. If you want to read the first parts…
Here on ROM: https://readonlymind.com/@MadamKistulot/AwardWinningFuckDoll/
And here on the EMCSA: https://mcstories.com/AwardWinningFuckDoll/index.html
It's a fun story about an award winning actress learning about a new line of sex dolls. Everyone's loving it, and I think you will, too!
You can find my discord server at the following link to talk to myself and other fans: https://discord.gg/e2cqgAs
If you'd like to chat to other lovers of erotic mind control, you can join the Mind Control Literature server here: https://discord.gg/JyafaCD
For now, I hope that you take care of yourselves, and each other!