Hello again, everyone!
Sorry for my extended, silent absence. You ever try to avoid being demolished by something, but it turns out you need to feel your feelings to get better? Well that's where I was, unfortunately. Things are on the mend now, seemingly more seriously, and as a result, I'm back and already working on projects that I really want you all to get to see!
Getting one of my goals for the year to happen seems very unlikely, but I'll still be doing my best to release more great pieces of erotic lesbian mind control fiction for all of you.
That started again with one I've released before, tightened up and made sexier, and just better to read: Social Parasite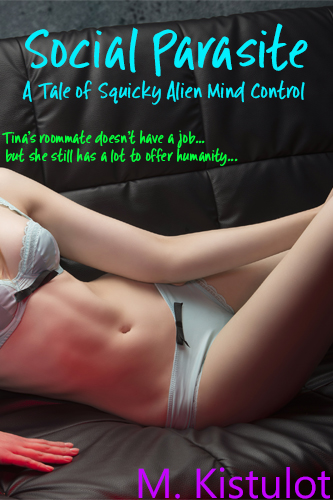 Tina is a woman just trying to do her best to get by. She works in a call center, and her best friend and roommate, Cindy, lost her job about a month ago. She's thankful to have someone she gets along with so well to talk to, even if Cindy can't contribute as much financially.
But something about Cindy seems… different. That change might be the best thing that's ever happened to them, at least, if Tina doesn't find out what's happening to them both while she can still put up a fight.
Social Parasite is a tale of lesbian lust, and squicky alien mind control.
If you're into alien parasites, check it out! If not… check it out anyway! It might surprise you.
I hope I'll have more to say soon, but as you can imagine, there's not a lot of news to deliver. This return is in its infancy, and I don't want to jinx anything so I won't be announcing a lot of news, just that I'm working on my next release, and have plans that I hope can fill out the rest of the year with more delightful smut.
Thank you all of reading, and I hope that you have a wonderful day!