Hello everyone! I hope that you all had an amazing time on your Friday the 13th!
According to my excel spreadsheet (Note: if you're a writer and don't have one of these to keep track of word counts, ideas, etc, I feel bad for you! It's so useful! If you can't afford/dislike office, I would also strongly encourage similar using other, often open source, spreadsheet software. It's free!) I jotted nearly 6k that day, so that alone feels pretty good!
Before we get into the meat of this blog post, let's have a taste of some flash fiction, shall we?
---
Open Reservation
"I'm not enslaving you. You're just taking a little holiday away from your thoughts!" Marcy smiled as she held the pocket watch above Leanne's calm face. "You're just going to be off sunbathing while I make your decisions for you."
Leanne was skeptical, but it was a lot cheaper than airfare.
It swayed.
She dropped.
---
If you didn't see me mention it last week, you really should see it this week: EyeofSerpent has been on the MCGarden writing up a storm! Their new series, a series of sapphic comic book flashes called By Another Name  and that link will take you to the first of them. There are many more parts now, and I've been thoroughly loving it!
This update brings everyone not following my Patreon a new story I've named…
In A Hot Second [mc, ff, cb]
The noble young heroine Virtue does everything she can to make the  world a better place, even if it means sacrificing herself in the  process.
Virtue is a lovely character on loan to me from the wonderful Chelicerate, who you might know as the writer of Canary. Canary by the way continues to be delicious, and you should read it, send her fanmail, and fawn over her. She is my girlfriend, but I take writing very seriously. This story is good, and it deserves praise. I'd like to also think that In A Hot Second does her ideas justice.
To whet your appetite, here is some art of an alternate universe's take on Virtue. In our tale she'll still have her much longer hair, but the flames in her eyes, well… you'll need to see.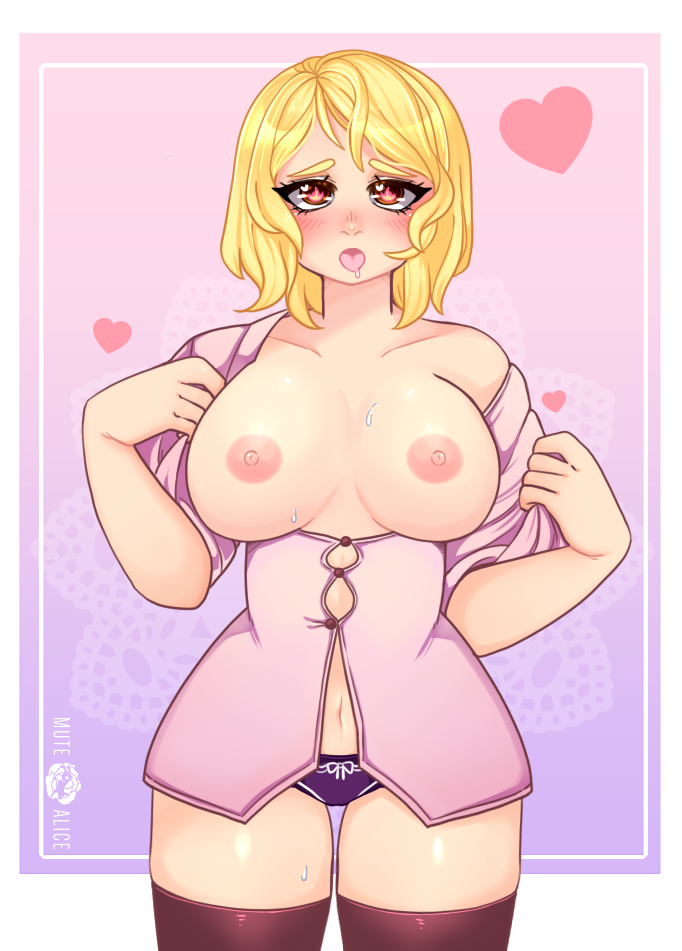 The art is courtesy of Mute Alice, a wonderful artist to commission, work with, chat with, etc. Seriously, she's great.
In the meantime, My Girlfriend's Mom is a Hypnotist (And Now I'm Not Allowed to Wear Panties in Her House?!) continues to sell pretty well! If you haven't picked up a copy, consider giving it a look! If you have, please consider leaving a review.
Also of note is that this week if you're a Patreon supporter, you get this month's Patreon exclusive, a little story named Contract Negotiations. It's a very memorable one, if I do say so myself.
As for the future, today after this post goes up I intend to get to writing my next story for Amazon. On Tuesday I finished a rather long project that won't be going up on to the EMCSA for awhile, but it clocks in as my longest singular story that I've ever written. Expect it to take up a good chunk of my updates for awhile–split up by Patreon exclusives losing their exclusivity such as is going to happen next week with Social Parasite.
I'm also looking at a few nonfiction projects. The first? My guide for how to submit a story to Simon. I've met a lot of authors in the past 5 years that haven't felt comfortable doing so. Plaintext. Unwritten rules. How do you set tags? How do you set synopsis? I've been doing it for 13 years, so while I may not be perfect…I've done a little bit of everything with Simon and it's all gone amazingly. There was one hiccup that wasn't my fault. Easily resolved. The hiccups that were my fault were also easily resolved.
I also intend to get a mailing list going for these blogposts, for my Amazon writing, and so forth. There's a lot to do to keep going forward as an author, and I find myself enjoying the expanded journey.
So since this is a project I hope to finish by this time next week, please let me know if you have any curiosities about submitting to the archive! In the meantime, happy reading, and take care of yourselves and each other!